1. Problem you are having? Every time I try to save the changes on the templates it keeps saying error and I have to relog.
2. What you were doing when the problem occured? Was making changes on navigation for gamezone themescorp templates
3. What version of xF are you running? xF v.1.5.10
4. Who is your web hosting provider? namecheap
5. What is your board URL? (you can send it via PM) -will send to who will respond-
6.Where did you download the xF installation package? xF v.1.5.9-10 was taken from invision virus
7. Where did you download the Mod/Hook? (answer on this question if you are having the problem with mods or hooks. - I am actually wondering now if it's because of the themescorp add-ons but I can't be sure... all I know is that I can't save edited templates.
8. What did you try to solve the problem? I refreshed, cleared cache and cookies... I could edit it through ftp instead but, it's inconvenient... plus, I would like it so that other admins can freely make changes on templates.
9. Picture/Video of the problem: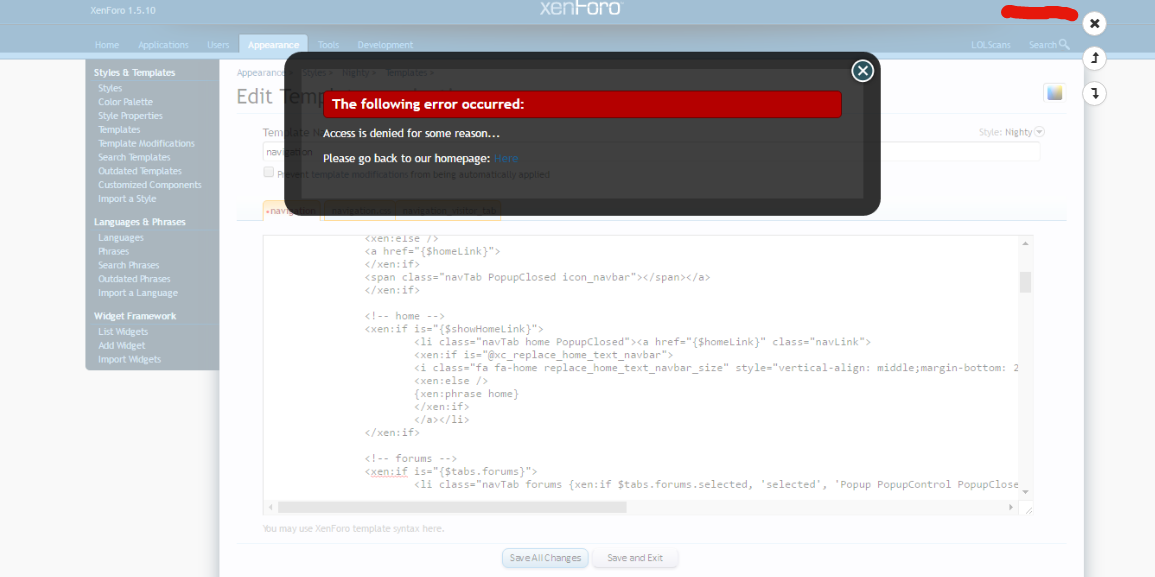 10. What username and password can we use to see the problem? -will pm to the one who will respond to this thread-
Edited by Marzia, 14 September 2016 - 09:35 AM.